About Jennifer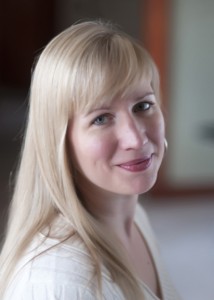 Jennifer Butterwick is a mindful massage therapist whose approach is deeper than merely helping people relax and feel great.  Beyond the instant stress-busting benefits of a Swedish massage, it's Jennifer's mission to help her clients re-educate the body so that muscular stress patterns aren't simply alleviated in the short term.
Her approach is holistic; integrating massage modalities to best suit her individual clients health care goals. The art and science of massage therapy dovetail to become true health care that everyone deserves. Jennifer's treatments inspire a profound sense of well-being that is carried to all aspects of life, encouraging awareness, positivity and on-going self-care.
After earning a Bachelor's degree in Art History and Archaeology from the University of Missouri in 1999, Jennifer continued to work and live in the downtown Columbia community while continuing to explore her passion for the healing arts.
She graduated from the Massage Therapy Institute of Missouri in 2006 and has since practiced in both clinical and wellness spa environments. She is a longstanding member of the American Massage Therapy Association and National Certification of Therapeutic Massage and Bodywork.
Jennifer specializes in Myofascial Release and learned the approach from internationally recognized physical therapist and educator, John F. Barnes in 2010.  She is also passionate about helping moms-to-be find joy and alleviate anxiety and discomfort that that may accompany pregnancy.   She proudly received her Pre and Peri-Natal massage certification from renowned teacher, Carole Osborne-Sheets in 2007.
Additionally, Jennifer supports athletes competing in the MU Big 12 Swim conference, the annual MS-150 cycling event, Missouri Show-Me-State Games, marathons and triathlons — aiding in their sports performance and recovery.   She also works with athletes recovering from acute injury and/or managing chronic pain.
Jennifer is an avid record collector, music lover, reader and pilates enthusiast.  She finds joy in time spent with her family and friends and loves being a part of Columbia's health care community.